Trail Conditions:
Closed
Date of Report
: November 27, 2023
Area Report:
THE LANGLADE COUNTY SUMMER ATV/UTV TRAIL SYSTEM INCLUDING ALL STATE-FUNDED TRAILS AND ROUTES ARE SCHEDULED TO CLOSE ON FRIDAY DECEMBER 1, AT 8:00 A.M.
COUNTY HIGHWAY ROAD ROUTES WILL REMAIN OPEN IN ACCORDANCE WITH THE LANGLADE COUNTY HIGHWAY DEPARTMENT POLICY. TOWN ROADWAYS, WHERE DESIGNATED AS OPEN, WILL REMAIN OPEN IN ACCORDANCE WITH VARIOUS TOWN ORDINANCES.
Winter ATV access on snowmobile trails will be authorized by public service announcement when snowmobile trails are open and when required conditions are met.
For more information, please contact Al Murray, Forest Administrator or Cody Brauner, ATV Coordinator at 715-627-6300.
The Langlade County ATV/UTV clubs including the Parrish Highlanders ATV Club, Wolf River Riders ATV Club, White Lake ATV Club, and Antigo ATV Club, and sponsors and operators of the existing trails, have put in many volunteered hours of brushing, signing, and trail work to provide ATV/UTV trails for your use in 2023. Please thank them for their efforts and patronized their business sponsors.
We hope that you enjoyed the Langlade County trail system in 2023 and thank you for supporting the economy and businesses of Langlade County!
Al Murray
Langlade County Forest Administrator
---

Area Information
Langlade County Forestry and Recreation Dept.
1633 Neva Road
Antigo, WI 54409
715-627-6300
Click Here to see the current weather forecast for Langlade County, WI
---
These trails are mostly on land owned and managed by Langlade County. Trails were developed and are maintained by Langlade County with the exception of private property which is maintained by local clubs. There are over 93 miles of trail connected by several routes. The trail is very scenic and transverses glacial moraines, upland hardwoods, cedar swamps and small rivers and lakes. The terrain is slightly rolling to very hilly, and links to the Lincoln, Oneida, Oconto, and Forest County  ATV trails.
The trails open with weather permitting after May 1st and close December 1st.
For further updates or questions regarding the trails you may call the Langlade County Forestry and Recreation Department at 715-627-6300 or visit the website at: www.langladecounty.org or request a free Langlade County ATV map by clicking here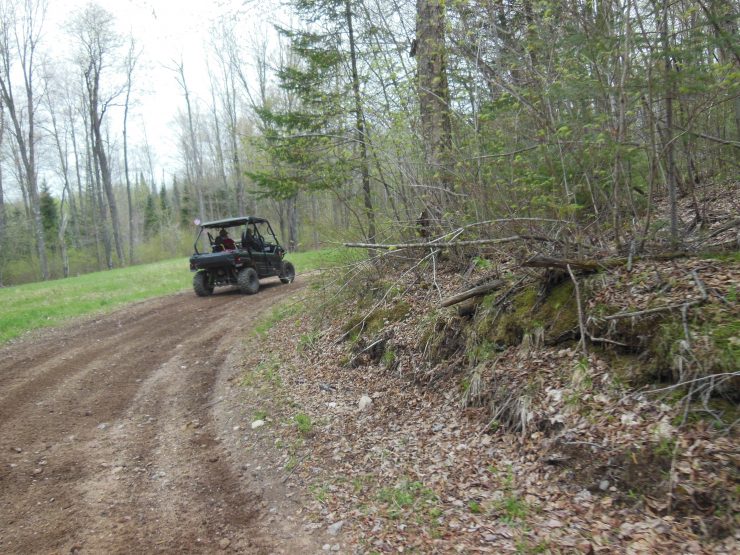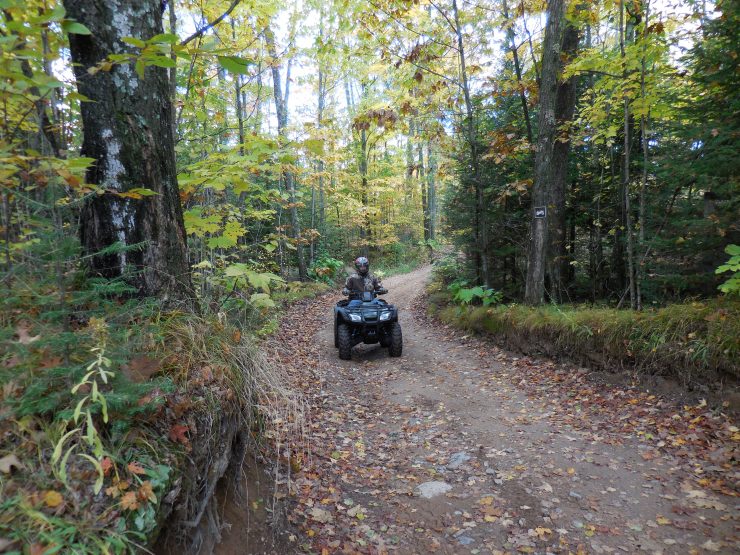 Trail Access
Parrish Highland Trail Area
-Hwy Q, at the Oneida/Langlade County Line
-Hwy H, 2 miles south of Hwys 17 & Q
-Hwy T, 3 miles west of Hwy 45, Summit Lake
Augustyn Springs Trail Area
-Hwy. A, 8 miles northeast of Neva from Hwy 45
White Lake Trail Area
-Sherry Road, 1.25 miles north of Hwy 64, Polar
-Hwy M/Maple Street, downtown White Lake
Trail Regulations
The Langlade County ATV trail system is a two-way trail. It is located on existing logging roads which are open to motor vehicle traffic, licensed vehicles and many other recreationalists. Off trail riding is strictly prohibited; this includes any forest road that is gated, cabled, posed, ditched or signed prohibiting the travel of unauthorized vehicles. Side-by-side vehicles or UTVs and LUVs such as: mules, gators, rangers, rhinos and prowlers will be allowed on Langlade County trails and forest roads. ATVs with stuffed tires or chains are prohibited. Also, ATVs are not allowed on the Ice Age Hiking Trails. The trail can be recognized with yellow paint on the trees adjacent to the trail. The ATV trails are marked by orange trailblazers/brown ATV signs. Please use caution and appropriate speed.  Langlade County ATV trail system does require users to display either a Wisconsin registration or an ATV trail pass.  Click here  for more information. 
ATVs are allowed on state-funded snowmobile trails, but only after 10 days after the trails officially open and when temperatures are under 28°F.
Roads
ATVs are allowed to operate on designated county highway year-round, as well as county or town roads designated by green routes signs. Highway regulations must be followed on all ATV routes.
Camping / Hotels / Cabins / Resorts
Camping on the Langlade County forest is allowed for up to 14 days, except in parking areas and areas posted prohibiting it. There are also several campgrounds, resorts and motels throughout Langlade County.   For a list of ATV/UTV friendly campgrounds in Langlade County, click here  For information on other accommodations besides camping click here.
Services
Several food and gas stops are available along the trail and on connecting routes.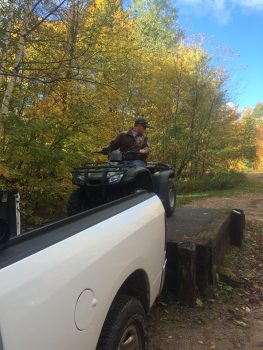 Timber Harvesting
The Langlade County Forest is over 127,000 acres in size and is managed primarily for timber production, together with providing recreational wildlife, and other multiple use benefits. You may encounter some logging activity. Please use caution and respect the loggers' equipment as they earn their livelihood.
Invasive Species
Please assist us in slowing the spread of invasive species on the forest by washing your machines before and after riding on Langlade County's ATV trails. There are washing stations located at the Hwy T parking area west of Summit Lake and Augustyn Springs will be getting a wash station by the end of 2017 at the trailhead/parking area on Highway A.
Please respect the forest. Don't litter or harass wildlife. We hope you enjoy what Langlade County has to offer, and that you'll have a memorable riding experience in the County of Trails.
Summer Information
The Summer ATV Trails will be closed from December 1 – May 1, weather permitting.
Winter Information
In the winter, ATV's are permitted on approximately 500 miles of the funded snowmobile trails, EXCEPT on the Nicolet National Forest, and areas that are posted NO ATVs. However, ATVs are not allowed on the trail until 10 days after the snowmobile trails have officially opened and the temperature is less than 28 degrees Fahrenheit at a point four feet above the trail surface. 
For more information on ATV/UTVing in Langlade County: The County of Trails, go to www.langladecounty.org.
---