Trail Conditions:
Excellent
Date of Report
: June 4, 2020
Area Report:
Official Trail Report: 
All Washburn County ATV trails are officially open for the season. Trail conditions will be variable and riders may encounter wet conditions and soft trails in some areas. Please tread lightly and PLEASE stay on the designated trail surface.
Also be aware that not all trails have been graded for the start of the season and riders may encounter portions of rough trails. Riders may also encounter minor trail washouts; Please ride with caution.
The Wild River Trail between Spooner and Trego is closed due to railroad re-construction operations.  A detour will be established prior to Friday morning and signage will be in place to direct trail users around the impacted area.
As always, once open, trails will close if fire danger is rated at "very high" or higher. Please refer to the link below for fire danger updates:  http://dnr.wi.gov/topic/forestfire/restrictions.html 
Wild Rivers State Trail Update:
Railroad operations staff have assured us that there will be a detour around the construction project that is currently ongoing, adjacent to the Wild River Trail, between Spooner and Trego. This re-route will be in the vicinity of Dilly Lake & Schleife Roads. Trail traffic might be routed across Highway 53 and connecting into the west side of Trego at the Mobil Station. More information will be available later this week.  
Detour signs will be in place for the Friday a.m. May 22 ATV trail opener. If the construction project is delayed, Washburn County has secured a temporary road route connection as a backup plan.
---

Area Information
For your FREE Trail Map and Visitor Guide, call 800-367-3306
or CLICK HERE for your FREE trail map!
Visit us at www.washburncounty.org for more information.
---
OVER 100 MILES OF SCENIC TRAILS – HOME OF THE ATV SCENIC TOUR AND HUNDREDS OF ATV-FRIENDLY BUSINESSES!
Washburn County, Wisconsin is host to over 100 miles of scenic, well-maintained ATV trails through the gorgeous, rolling hills of Washburn County. The area includes the communities of Spooner, Birchwood, Shell Lake, Minong, Stone Lake, and Long Lake. Washburn County is known for some of the best ATVing in Wisconsin. With hundreds of ATV-friendly businesses, you'll find easy trail access from many lodging facilities in the county.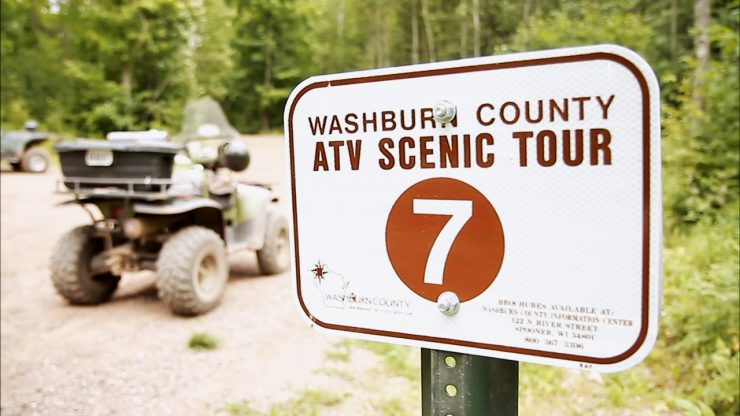 All of the county trails connect with other area trails (Sawyer, Douglas, Burnett and Barron Counties), making this the perfect location for an afternoon, a day, or even a week of ATVing. You will find easy access to lodging, dining, gas, shopping and more.
ATV Trails:

Washburn County offers over 100 miles of incredible ATV trails. All of the county trails are UTV-friendly as well! The majority of the trails are located on county land and pass through dense forests, across rivers (including the Namekagon, part of the National Park System) and through many ATV-friendly communities.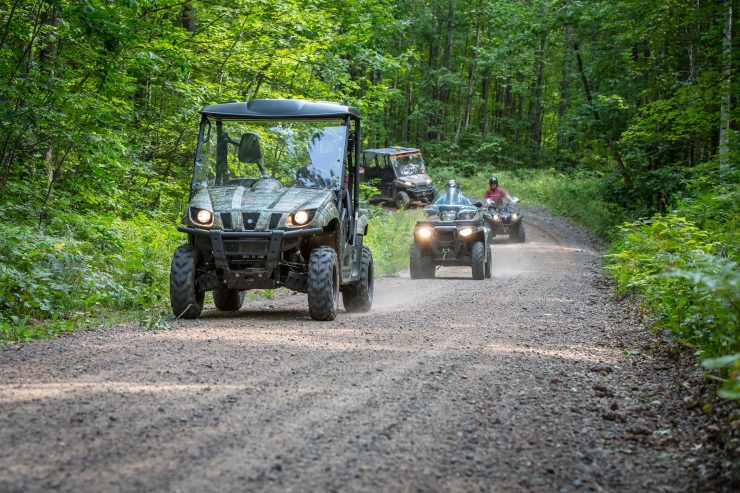 In addition to the county trail system, Washburn County is also home to two great state trails:
Wild Rivers State Trail, a 96 mile trail that follows an abandoned railroad grade. The trail is open to ATV use from Rice Lake to the southern edge of Superior where it connects with the Tri-County Corridor. 40 miles of the Wild Rivers Trail is located in Washburn County and goes directly through the communities of Sarona, Spooner, Trego and Minong. Parking areas exist in all four communities. In addition, Minong is home to the Wild Rivers Trail ATV Campground which offers 10 RV sites and 5 Tent sites.

Tuscobia State Trail, 74 mile trail that extends from Birchwood, through Sawyer County and ends up in Park Falls. From the Tuscobia, you can access the incredible Spider Lake Loop in Washburn County, head over to Sawyer for an afternoon of riding or make the trip over to Park Falls for a leisurely ride on the Tuscobia.
CLICK HERE TO VIEW MAPS OF THE WASHBURN COUNTY TRAILS
ATV Scenic Tour: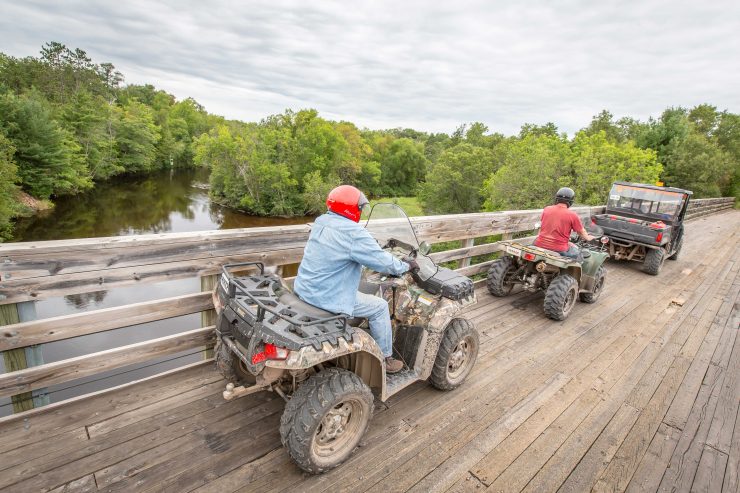 Washburn County has a fun new way to explore the area ATV trails. The Washburn County ATV Scenic Tour is now available for ATV enthusiasts to learn about over 35 points of interest located along the 100+ mile ATV system. If you have ever been riding on a trail and wondered what river you were passing by or what the giant fish along the trail represented, you're in luck! The tour highlights waterways, natural points of interest, quirky landmarks and historical sites such as an old homestead where remnants of the original buildings still stand.
---